Custom Tray and Coffered Ceilings
These coffered ceilings are located in two adjoining rooms, a kitchen/breakfast nook, and a living room area. I would have to admit that for METZ Remodeling & Home Improvement, these ceilings are our "Pièce de rèsistance" in the field of finish carpentry. Everything about this job was quite demanding. In the kitchen/breakfast nook area alone there were over 50 ceiling lights that had to be perfectly laid out before the first layer of the coffer could be built. The most challenging aspect of the job was building the coffers before the cabinets were installed. This was no simple crown molding installation, as there are 11 components to each coffer in the kitchen area, and 13 to each in the family room. Combined with the amazing cabinets built by Cahaba Woodworks, I believe we achieved a living space that is unrivaled in complexity and beauty.
Click thumbnails to view larger pictures.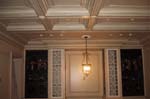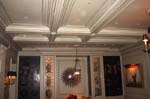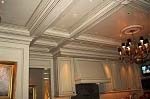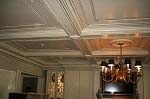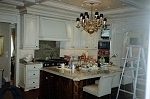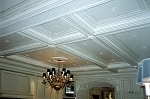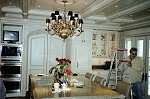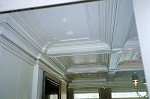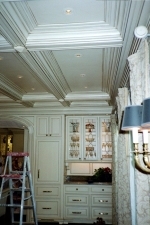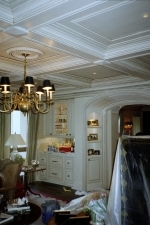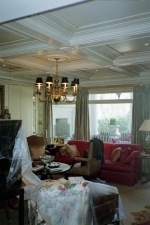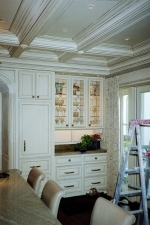 This is a project we took on as subcontractors for Marc Luks, owner of Managed Home Improvements. As always, we appreciate the ongoing confidence Marc and other Birmingham area contractors have shown in our ability to manage and complete complex and demanding projects.

If you're looking to make a dramatic yet affordable change to a Dining Room, Bedroom, or Den, there is no better way than to add a tray ceiling. The tray will immediately add a sense of elegance and depth that will transform the room, effectively making it seem much more spacious.
Click thumbnails to view larger pictures.
Most rooms can accomodate some type of tray ceiling, though there are some physical limitations associated with contructing them. Ideally, you need to build upward to truly add height to a room, but if the ceiling is on the first floor of a two story house, this will not be possible. But there are ways to get around many limitations. For example, even if a ceiling is just eight feet tall, we could build down from the existing ceiling height, four to six inches, and promote the illusion of added depth.
Give us a call and we would be happy to arrange a meeting to assess your specific room layout and determine the best way to achieve your desired ceiling. With just the addition of crown moulding METZ Remodeling & Home Improvement can transform an ordinary room into a far more stylish space.