Keep Valuables Securely Hidden With A Hidden Bookcase Door
For hundreds of years, homeowners ( and especially castle owners ;) have utilized hidden doors to conceal panic rooms, secret passages, and hidden spaces for their most valuable possessions. METZ Remodeling & Home Improvement can turn most any doorway into a hidden passage at a very affordable cost. We installed the door below using rollers and rails, but can also hinge bookcases on pivot, or piano hinges, as each situation or budget dictates.
The door we have featured on this page is attached to custom made lamenated plywood beams with Stanley's Heavy Duty PDF150 Pocket Door Hardware Kit. Because of the relatively easy alignment of the custom support beams featured with this system, you end up with a bookcase door that is perfectly flush with the finished casing. You would absolutely have to already know the concealed door is there beforehand, or you would never guess it was there.
Click thumbnails to view larger pictures.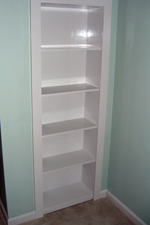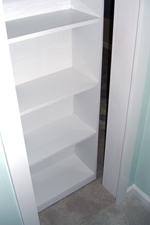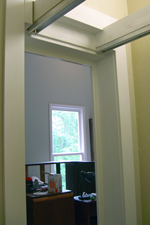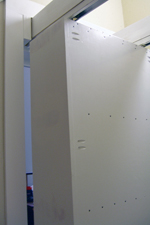 The Stanley Pocket Door Hardware Kit creates a movable door which opens and closes with unparalled smoothness. However, not every installation is right for this system. Probably the next best way to install the door is with a Rixson 370 pivot hinge.
The best online information I've been able to find on installing a hidden bookcase door is at Gary Katz's website called This is Carpentry. Visit the site to see step by step instructions and photos of the construction and installation of the bookcase door using the Rixson 370 pivot hinge. Then consider giving us a call to make an appointment to determine which installation would be best for your situation.