Customize Any Space To Fit Your Needs With Custom Cabinets and Closets
METZ Remodeling & Home Improvement can build custom wood shelves, cabinets, and closet componets, on site, within the exact dimensions of your closet, storage area, laundry room, or pantry. The components pictured have a natural birch finish, but can also be built using melamine or other plywood finishes. Most of our plywood products are purchased at Magic City Plywood so you can be assured the highest quality products are going into your home. If you need to match the aesthetic of the surrounding room we will paint them any color you wish.
We can also install modular closet components from any retail outlet including Lowe's, The Home Depot, or Bed Bath & Beyond, creating a beautiful and professional custom closet or storage space. We will also work with any closet component supplier you have you have been able to locate online, or through references.
Click thumbnails to view larger pictures.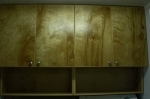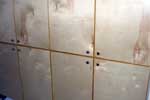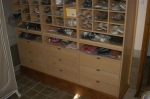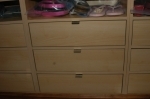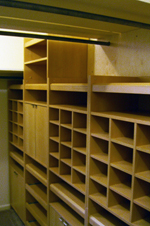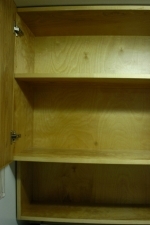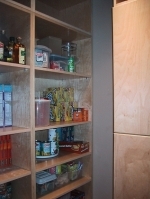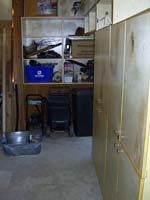 METZ Remodeling & Home Improvement maintains strong ties with local cabinet makers who can build any type of custom cabinet you could desire at very competitive prices. Please look at the cabinets on our Coffered Ceilings page to see the quality of workmanship our cabinet experts design and build.
If you've been putting off organizing your closets, laundry room, or basement area because you couldn't find affordable cabinets that were the right fit for your home, a representative of METZ Remodeling & Home Improvement will be happy to meet with you to discuss the merits and costs of building custom cabinets that will greatly add to the convience and overall value of your home. We can also consult with one of the professtional cabinet shops that work regularly with us to provide you with kitchen and bathroom cabinets that are always on the cutting edge in design and beauty.